Things to do in Chattanooga
Ideally situated on Martin Luther King Boulevard, The Westin Chattanooga is in the heart of downtown Chattanooga within walking distance of top things to do in Chattanooga. The beauty of the Appalachian Mountains makes Chattanooga a mecca for outdoor activities. Outside our front door, you will find world-class hiking, mountain biking, rock climbing and a beautiful 13-mile Riverwalk along the Tennessee River.
Less than half-mile away is Chattanooga's beautiful waterfront, where you will be able to visit the Tennessee Aquarium and enjoy the IMAX Theater and River Gorge Explorer. Grab the kids and enjoy the Children's Discovery Museum or a Chattanooga Ducks Tour. A short drive up the mountain will lead you to the Incline Railway, Rock City and Ruby Falls.
If you are looking for a more cultural experience, we are just steps away from the Tivoli Theatre and a short distance from the Hunter Museum and the Bluff View Art District. Enjoy an evening in the Main Streets Arts District, where fine dining and local art galleries abound.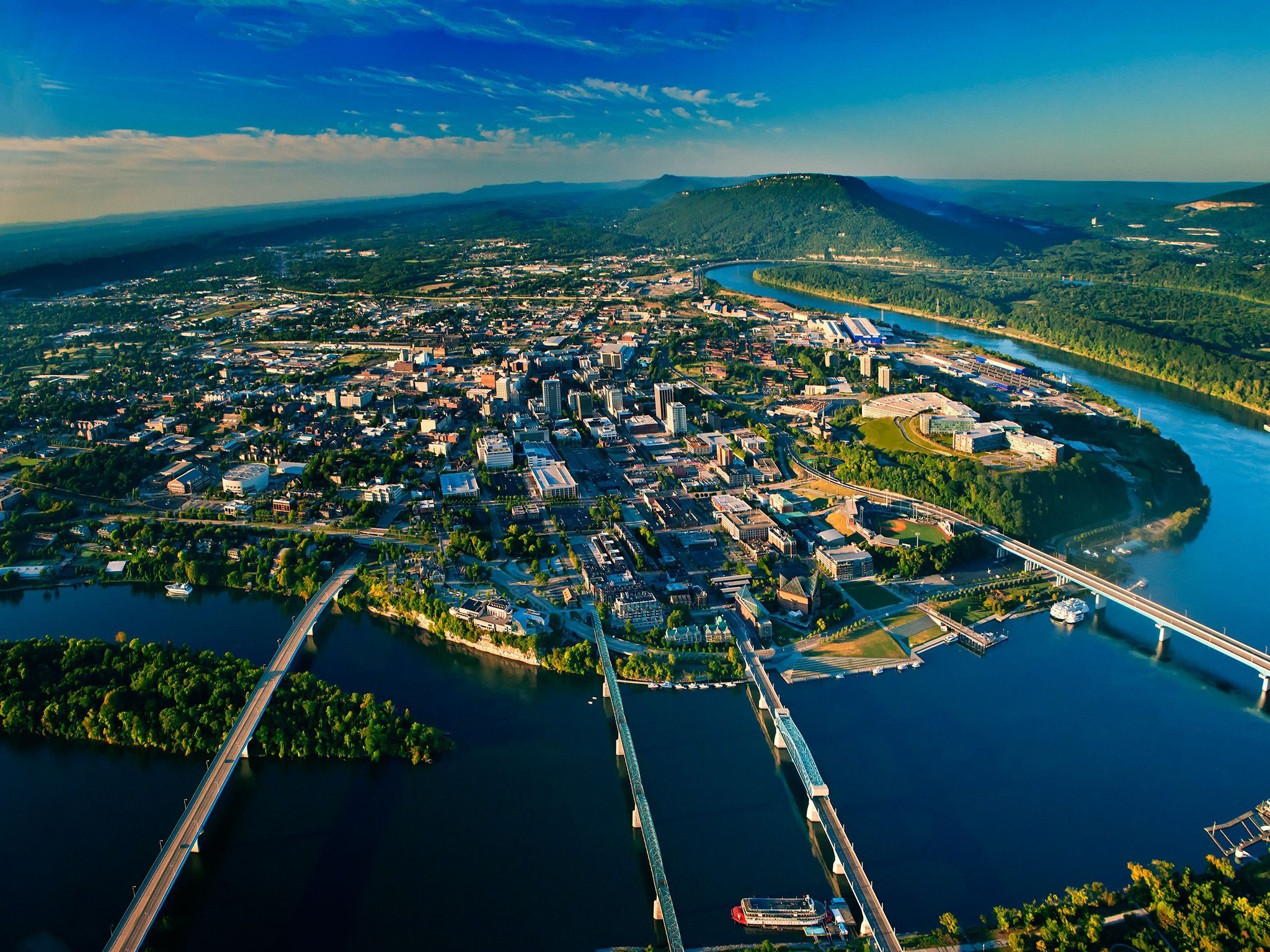 Arts & Culture
Tivoli Theatre
709 Broad St, Chattanooga, TN 37402
Known as the "Jewel of the South," the historic Tivoli Theatre has entertained visitors for more than 85 years. The Tivoli is home to the Chattanooga Symphony and Opera Association, and welcomes a wide variety of touring companies and musical acts every year.
Main Street Art District
Explore the newly developed arts district packed with galleries, upscale restaurants, and more.
Bluff View Art District
411 E 2nd St, Chattanooga, TN 37403
Specializing in the visual, culinary, and landscape arts, The Bluff View Art District historic neighborhood is a haven for creativity. Browse through River Gallery for fine art and museum-quality crafts from local, regional, national and international artists, watch local artisans bake breads or make chocolates, or dine at one of the three restaurants, including authentic Italian and European desserts, pastries, coffees, and sandwiches.
Hunter Museum of American Art
10 Bluff View Ave, Chattanooga, TN 37403
Built on a ninety-foot limestone bluff overlooking the Tennessee River, the Hunter Museum of American Art features 100 years of architecture and houses one of the finest collections of American art in the Southeast. The museum highlights American art from the colonial period to the present day, and covers a wide variety of media including painting, sculpture, contemporary studio glass, and crafts.
Family Fun
Tennessee Aquarium
1 Broad St, Chattanooga, TN 37402
Visit the Tennessee Aquarium and find out why it's Chattanooga's most visited attraction and rated the No. 1 aquarium in the country for visitor satisfaction. Home to more than 10,000 animals in two separate buildings, follow water's incredible journey from the highest mountains to the deepest depths of the sea. Bring the whole family to visit face-to-face with sharks, otters, butterflies, penguins, and more.
Creative Discovery Museum
321 Chestnut St, Chattanooga, TN 37402
If you have children with you, be sure to visit the Creative Discovery Museum. One of the nation's top children's museums, watch your children exercise their imaginations while creating a clay sculpture in the Artists' Studio, digging for dinosaur bones in Excavation Station, and much more.
Community & Local Attractions
Lookout Mountain
Visit Lookout Mountain and experience some of Chattanooga's best attractions more than 2,000 feet in the air. Tour through nature's most beautiful rock formations, explore the deepest cave and largest underground waterfall accessible to the public, and ride the world's steepest passenger railway.
Rock City
1400 Patten Rd, Lookout Mountain, GA 30750
This iconic, must-see attraction is the only place to offer breathtaking, panoramic views of seven states. Rock City features massive, ancient rock formations, gardens with more than 400 plant species, a restaurant, and more. Trek along the woodland path on the Enchanted Trail, experience the magic of Fairyland Caverns, or catch a festival year-round.
Ruby Falls
1720 Scenic Hwy, Chattanooga, TN 37409
Named as one of the Ten Most Incredible Cave Waterfalls on Earth, this thundering, 145-foot waterfall deep within Lookout Mountain promises to thrill adventure seekers and homebodies alike. For more than 80 years, the unique formations and the natural beauty of the sparkling waterfall have dazzled visitors. Enjoy a guided tour along a paved, level pathway then relax on the mountainside deck with a snack overlooking a panoramic view of Chattanooga and the Tennessee Valley.
Lookout Mountain Incline Railway
3917 St Elmo Ave, Chattanooga, TN 37409
Known as the world's steepest passenger railway, the Lookout Mountain Incline Railway has been delighting guests for more than a century. Experience the thrill of riding "America's Most Amazing Mile" then visit the machine room where the giant gears are put into motion.
Miller Plaza
850 Market St, Chattanooga, TN 37402
This recently renovated central city park offers an aesthetic leisure area and a beautiful, versatile event space in the heart of Downtown Chattanooga.
Shopping
Warehouse Row
1110 Market St, Chattanooga, TN 37402
Twice featured in Southern Living Magazine as both Best New Shopping Street and Where to Shop Now, Warehouse Row is a collection of buildings built in the early 1900s that have been authentically restored and revitalized. The 330,000-sq.ft. development features distinctive home furnishings, artisanal goods, clothing boutiques, restaurants, and more.
Arenas & Stadiums
W. Max Finley Stadium
1826 Carter St, Chattanooga, TN 37408
The home stadium for the University of Tennessee at Chattanooga football team and Chattanooga FC, W. Max Finley Stadium is conveniently located downtown as Chattanooga's largest venue.
McKenzie Arena
720 E 4th St, Chattanooga, TN 37403
The primary basketball venue for the University of Tennessee at Chattanooga, McKenzie Arena is also used for concerts, the circus, monster truck shows, and many other events.